Ombre is the blending of one color hue to another, usually from light to dark. It has become most stylish and popular nail designs. There are so many different ombre color combinations that you can try. Have you tried Gorgeous Pink Ombre Nails?
Pink is a beautiful color that suit everyone and to suit any season. We've selected Pink Ombre Nails Ideas to inspire your next manicure. Here is a list of pink ombre nail art.
PINK OMBRE NAILS
There are so many different ombre color combinations that you can try, but today we are showing you some amazing pink ombre nails.
BOLD PINK OMBRE STILETTO NAILS
The nails are soft pink and then the color blends to a bright and more vivid shade. Keep it straightforward like this or you can add the nails with glitter or rhinestones for a luxurious impression.
PINK AND PURPLE OMBRE
Pink compliments so many other colors, one that is suitable to be used together is purple. As you can see, these two colors are pretty and trendy while come together. These nails start purple and then blend to pink towards the tips. A light version of pink-purple would look amazing as well.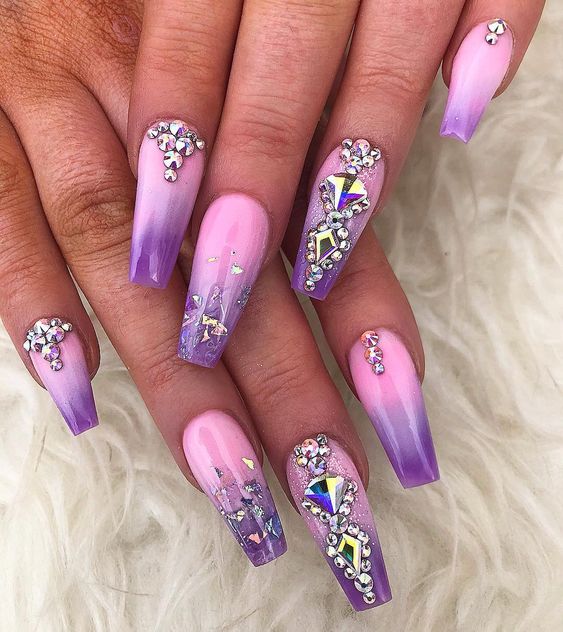 BRIGHT PINK OMBRE NAILS WITH A FLORAL ACCENT NAIL
This nail art is for you who love add some floral art on your nail. Nail art like this is suitable for spring, summer and special events. You can use flowers nail stickers or draw your own.
TRENDY AND BOLD PINK OMBRE FLAMES
The combination of vivid orange and pink ombre is a popular nail art for the summer and vacations. This tropical vibe nail art gives off a glamorous and fierce impression.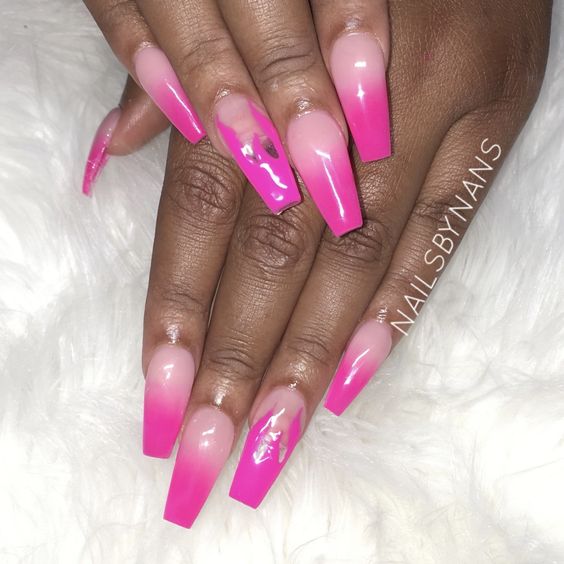 THREE STYLE PINK OMBRE NAIL ART
If you are a fan of nail art with added glitter, rhinestones or a chrome effect on your pink ombre nails, then there's nothing wrong with using them all at once. Looks strange? Of course not. Instead, you will get a luxurious and stylish impression.
SOFT PINK OMBRE NAILS
The nails are a soft and light pink that blends to a brighter pink towards the tips. This design will look stunning on other nail shapes such as stiletto or coffin.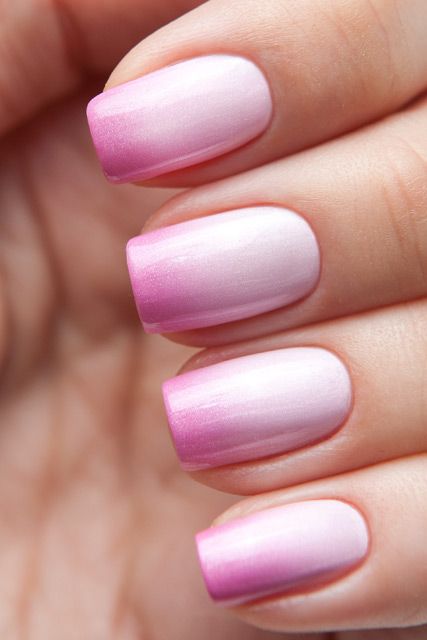 PEACH AND PINK NAIL ART
Peach and pink ombre is a fun and bold nail idea that will suit everyone. The combination of peachy orange shade and the color blends to bright pink towards the tips looks amazing.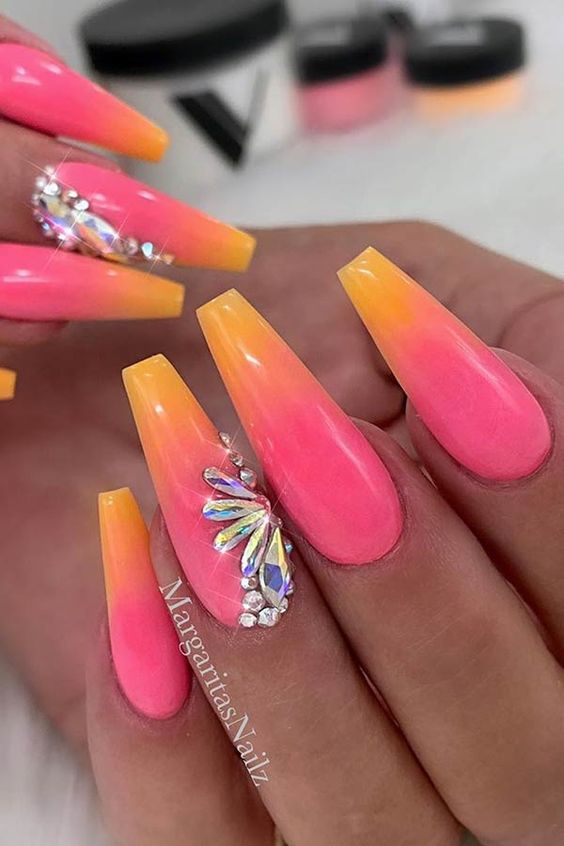 PINK AND WHITE OMBRE WITH GLITTER
Do you know what is French ombre? French ombre nails is when you have the classic soft pink and white colors. Pink and white ombre creates such an elegant nail look. You can also add some glitter to 3 or 4 nails to make you look more stylish. Nail art models like this are widely used by brides at their weddings.
NEON PINK NAIL DESIGN
Bright pink nail for Friday night party? Why not! Three nails are bold pink and two nails are nude with vivid pink ombre. It is statement making nail idea that is easy to wear.
MATTE FINISH OMBRE NAILS
If you do not like shiny, glittery and glossy look for you nails, do not worry we have pink matte finish ombre nails. Two nails have nude and pink ombre while the other two nails are nude. You can also add pink hearts using nail stickers or you can hand-paint hearts. This ombre nail idea perfect for spring, summer, Valentine's Day and more. The matte finish makes the nails cute and pretty look.
NEON YELLOW PINK NAILS
Here we have long coffin nails with the pink and yellow color. At the base of the nail, the color is neon pink and then it changes to striking yellow. It is so summery, fun and tropical. You can also decorated with rhinestones if you want.
PINK BLUE COTTON CANDY NAILS
Sweet, cute and funny are the impressions that are displayed in the combination of these two colors. You should use pink and light blue to get a nail color like cotton candy. You can use matte or glossy finish nail polish. It all depends on taste.
That was the list of pink ombre nail art design ideas that we selected for you. We hope you have found a pretty pink ombre nail design to try!