Are you looking for Summer nail design ideas that authentic and only suitable for summer?
I have some recommendations for trendy summer nails that you need to try in this summer 2019. Maybe some of these summer nail collections you've seen before, and also you wouldn't think that some of these nail art turns out to be popular during summer.
Your nails are still not ready for summer? Your better check my list of 50 nail art designs for summer. Hurry! Summer is right around the corner!
Easy Summer Nail Ideas
Summer is my favorite season, and we're going to be very active. When I think about summer, I think about bright color like yellow, orange, and light blue. Summer is also synonymous with holidays, beaches, bikini and tropical fruits such as pineapple, orange and watermelon. So when summer comes around, I want add something beautiful in my fingertips and bring the sunshine inside.
Unlike most people, but I prefer contrasting colors that must be tried during summer. It's about bright colors and fun, and I wanted the nails to pop to stand out. But if you have crazy patterns clothes for summer outfit, make sure your nails to be simple, clean, bright, really contrast and stand out from the look but encompass the overall feel.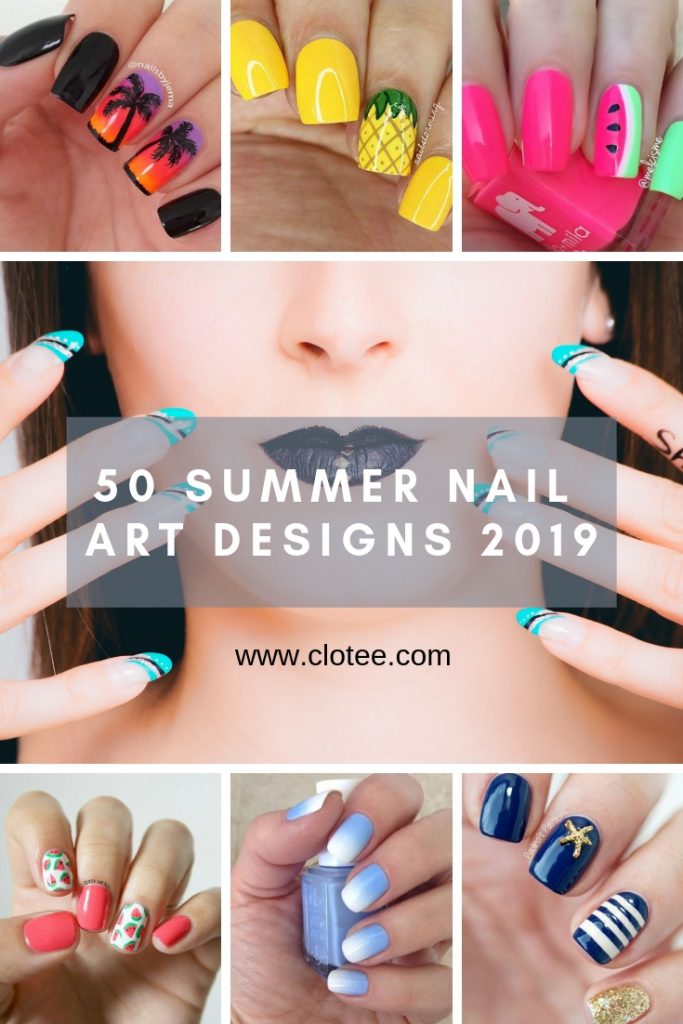 Cute Summer Nail Colors
Hawaiian Florals
DIY Summer Nail Art
If you are looking for new nail design inspired by the gorgeous summer and the sea, you might want to put the beach waves on your nails. This design looks complex, but it is actually very simple to make. Follow the steps we will show you and enjoy this creative nail design.
DIY Beach Wave Nail Design
You need 4 nail polishes: white, light brown, turquoise and blue. You also need a sponge, nail polish remover, hair spray, a few cotton pads, and plastic cup with water.
Take a small sized sponge and apply nail polish on it, apply the light brown, turquoise and blue over the sponge like you would prepare to create ombre nails. Start dabbing the sponge to the nails so the nail polish transfers to them. If the sponge gets to dry soak some polish in it again. Let your nails dry and prepare the plastic cup with water for the next step.
Put a few drops of white nail polish into the cup of water and spray some hairspray over it. The polish will start to separate looking similar to a spider web. Stick one finger into the water so the polish sticks to it.Repeat it until all of your nails have the web looking layer over them. Take a cotton pad with some acetone and remove the excess polish from the skin around the nails. Done!
Summer Nail Tutorials
Check out another cool tutorial of diy summer nail art below:
DIY Mermaid Scales Nail
DIY Pink Flamingo Nail
Look at this cute mini watermelon or pineapple on your fingers. Here is how to make it.
DIY Pineapple Nail Art
DIY Watermelon Nail
Dark Summer Nail Colors
Imagine your at vacation and suddenly your partner invites a romantic dinner or a semi-formal party that requires you to wear a graceful dress according to the theme of the event.
Your summer fluorescent nail color isn't suitable for your semi formal and glamorous look, is it? Meanwhile you don't have to make a new nail art because it requires lot of time. Don't worry, because there are many nail art designs that perfect for summer, both day and night. You only need to choose dark colors but still have summer elements in them.
If you are not good at drawing, you can use dark color nail polish that contains glitter or you can make ombre nails by combining black with dark colors like blue or purple.
Sunset Palm Trees Nail
Ombre Night Sky Nail
Starfish Charm Nail
Starry Night Nail

Summer Nail Art Design Ideas
Summer Yellow Nails
Orange Tropical Floral Nail
Orange Sunset Nail
Summer Beach Nail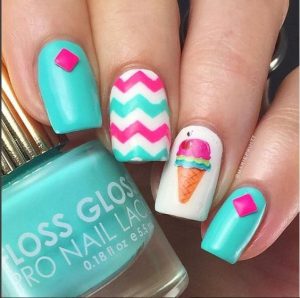 Tropical Summer Nails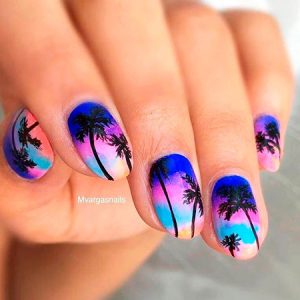 Ombre Nails For Summer
It's easy to make ombre nail designs. All you need is a sponge and at least two colors of nail polish. For the tutorial, you can see it as shown below.
Colorful Summer Nail Arts
Neon Hot Summer Nails
Try to dare using colors like hot neon or fluorescence nail polish. If you are creative enough, you can experiment with more than two striking colors and make them ombre. Or if you still want to use neon colors but want to give a touch of art without making it too overlapping, you can decorate only one of your finger with a polka dot, star pattern, chevron, stripes, glitter, etc.
Pastel Nail Color For Summer
Just like neon colors, you are also free to use pastel colors for summer as long as the color you choose is soft pink, light blue, Tosca, etc.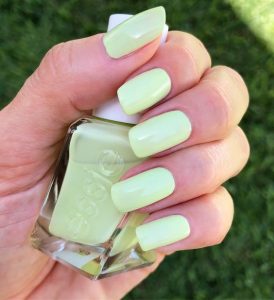 Cool Summer Nails
I would like to show you the idea of cool summer nail ideas is blue. You could use any blue you have such as light blue, blue sea, Tosca and mint.
Teal Glitter
Glitter Waves Nail
Glitter Starfish Mermaid Scales Nail
I absolutely love those color combination, match with my bikinis and my trendy summer outfit! And the most important is, those summer nail ideas is easy to make. You don't have to go to nail art salon, do it by yourself – fun summer nails.
Summer Holiday Nail Art
Fluorescent Flamingo Nail
Tropical Fruits Nail
Watermelon Nail Design Ideas
Those are some of the most amazing and gorgeous, summer nail designs that you need to try! Let me know which one was your favorite ♡ Don't forget to share this article if you think fingernail designs for summer is every cool girl needs to know about. Which impressive nail design is your favorite? Share in the comments!